Year 5 Hit Lulworth Cove & Durdle Door!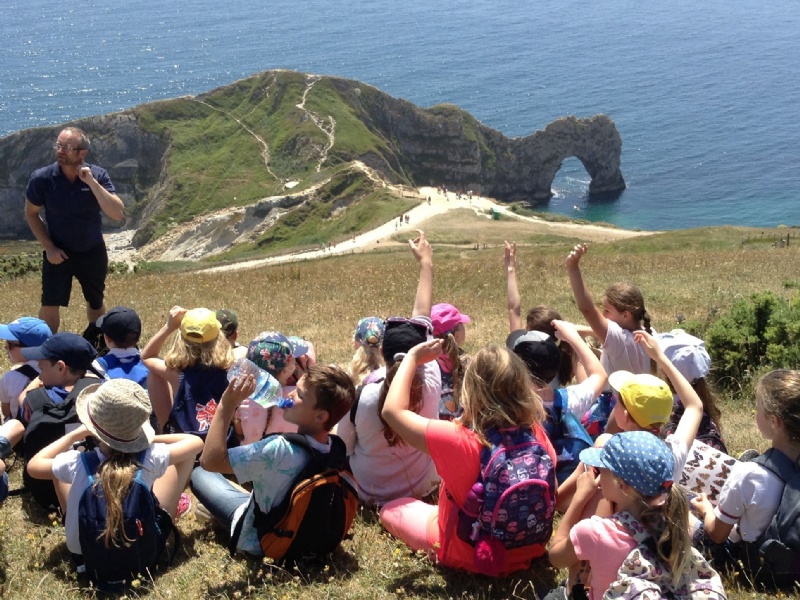 On Wednesday 27 June 2018, Year 5 Buzzard and Osprey went on a school trip to Lulworth Cove.
We went to Lulworth because we have been learning about the Jurassic Coast, along with the rock types and the features of a coast such as stacks, arches, caves and many more.
We got to school with all the kit [sun cream, a hat, lunch and two water bottles] in our rucksacks. We all got on the coach in our groups, and sat next to someone within our group. Most of Buzzards went on the lower level, and Ospreys went on the top. The journey took around 40 minutes.
When we got there, we met a ranger/tour guide called Derry. We went into a classroom and watched a PowerPoint presentation about rocks. At Lulworth Cove there are 5 types of rock. Portland, Wealden, Greensand, Purbeck, and chalk. Some of these types are the house names at the Manor School.
| | | |
| --- | --- | --- |
| Portland | 150000000 | Strong |
| Purbeck | 147000000 | Soft |
| Wealden | 140000000 | Soft |
| Greensand | 125000000 | Soft |
| Chalk | 065000000 | Strong |
Then we walked to the stair hole. We saw lots of geographical features there, including blowholes, arches, and caves. The blowholes and arches made a smiley face, like this J! Along with the coastal features, there were things like 'Lulworth Crumple'. That was made by plate movement.
Then, we went to the world heritage site stone. We found out the actual name for the Jurassic coast is the Dorset and east Devon coast. We were also able to high-five/touch a sauropod dinosaur footprint on the stone (at the top.)
Lunchtime! We ate on a field next to the coast. It was a beautiful view. There were a few strangers on the field and we all had a big year 5 lunch picnic.
After a while, we met up with Derry again and walked over the massive hills. Then, we stopped at a burial mound and passed round binoculars. It was really enormous, but when archaeologists discovered it, there was only one person in it! He was 6.7 ft tall!
Eventually, after 15 minutes of walking, we reached a place called Scratchy Bottom! Everyone thought it was very funny. In the distance we could see Durdle door. We all sat down and admired the view. Derry told us some facts and we asked him some questions. After, we set off for the coach.
We then went through a breezy woodland walk, to get to the coach. Before we knew it we were back in school and our day was over.
We hope we get to go back one day!
By Isabelle, Phoebe and Rhiannon, Year 5