Sports Day 2017: Reception and Key Stage 1 – 19th June. Key Stage 2 – 20th June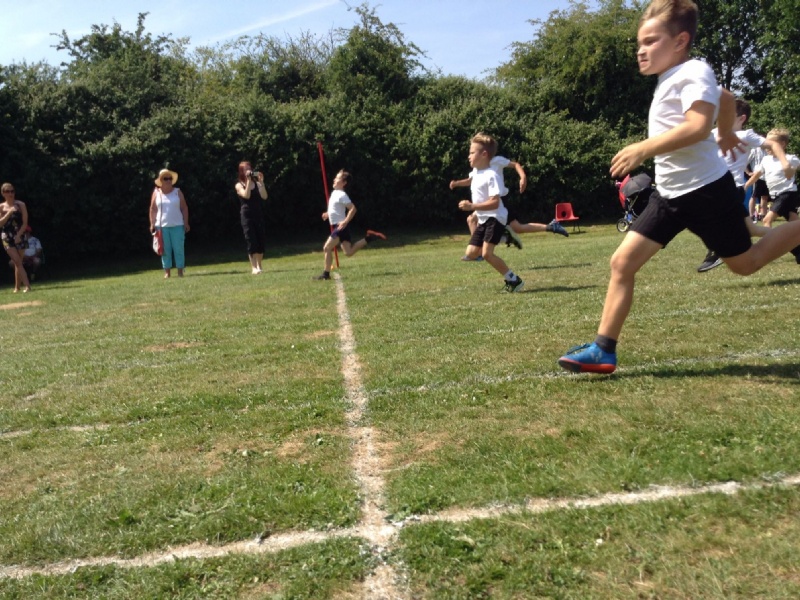 As the summer once again arrived, our school Olympians participated in our school Sports Days. The weather was very sunny and gave the feel of a Greek Olympics, which made everyone feel like they were back at the very first Olympics.
Our Key Stage 1 and Reception afternoon was a resounding success. All the children worked hard with their parents during their 50 Activities challenge, which was brilliantly run by our Year 6 children. A quick drink and the competitive racing then began, ably assisted by our Bronze Ambassadors. The Key Stage 1 children pushed themselves as fast as they could and produced some extremely close racing, including some really exciting close finishes. The three children who came first in each race were then sent over to the medal podium to receive a medal from one of our Bronze Ambassadors and the school governors.
Although it was extremely hot, the children once again performed really well and behaved perfectly. They supported each other and demonstrated some amazing sporting values. Well done Key Stage 1 and Reception - the school and I are very proud of you.
The weather for Key Stage 2 Sports Day was another warm day, but that did not deter our children from bringing their best. The morning consisted of the field events, with the children participating in a throw and a jump of their choosing. First, Year 3 and Year 4 came out and competed, before Years 5 and 6 followed them out later in the morning. After all of the events, children who finished in the top three positions received medals from a school governor on our medal podium. The Javelin, Vortex Throw, Long Jump and High Jump were highly competitive, with all the children from Year 3 to 6 performing brilliantly in the beautiful morning sun.
The whole morning ran very smoothly, which is a huge credit to our children and staff who once again rallied at the call. The effort and exemplary behaviour of the children meant that they once again did themselves and our school proud.
After lunch, the children returned to the field to take part in their track events. Some events had huge numbers of entrees, and some events saw no competitors in certain age groups. This was due to the fact that the children were allowed to choose the events that they wanted to participate in. However, this resulted in some very competitive races as the children were highly motivated and they gave every last bit to their race. As with the Key Stage 1 races, the Key Stage 2 children produced similar close finishes as they were cheered on by enthusiastic and excited parents.
Records were smashed and lots of medals were collected. A massive well done must go out to the children for competing with 110% effort and a 'Never Give Up' attitude. This has always been evident from our sporting events this year, and our Sports Day was no different.
After adding up the points, the Sports Day Cup final standings were Trenchard in 1st place, Maltravers in 2nd place and Arundel in 3rd place.
I would like to say a HUGE well done and thank you to the children for performing so well, not only in Sports Day but in their PE lessons and at other sporting competitions as well. The sport and PE at LMPS has made massive progress over this last year and we look forward to the next year as we plan how we are going to make it even better. Have a great summer break, and well done and thank you to all those involved (parents, staff and children) for making Sports Day 2017 a resounding success.
Mr Noyce - Sports Coach